This guide will help you set up Ecommerce tracking on Google Analytics and your website, find and create Ecommerce reports, and become comfortable using it.
Ecommerce combines your regular Google Analytics data with your inventory and sales to effectively draw smart insights. Did you know that Ecommerce tracking works wonderfully not only for e-shops but for SaaS apps too?
Let's dive right in.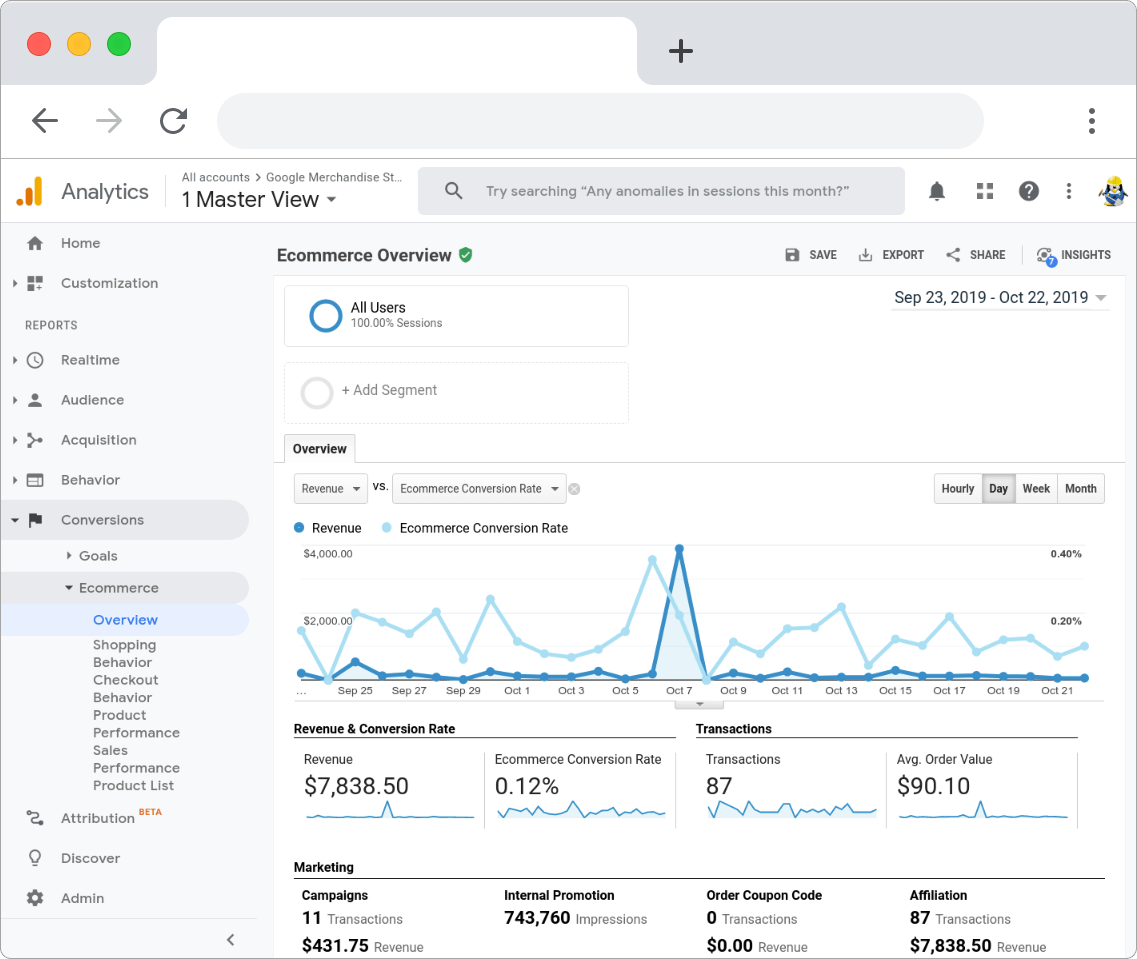 Google Analytics Ecommerce
What is Google Analytics Ecommerce?
Google Analytics Ecommerce is an addition to the standard GA set up. It adds more metrics related to the nature of ecommerce, like revenue, purchases, and transactions. Typically, you want to have this additional data about your e-shop and combine it with standard metrics. It creates a whole new set of possibilities to make the right decisions. You'll be able to see which marketing efforts help to boost sales, what items are selling the best, your revenue split, etc.

Google Analytics Ecommerce is your old Analytics data, enriched with your inventory and sales numbers.
Should you use Google Analytics Ecommerce?
If you operate an ecommerce store and want to understand your visitors, you have to use some analytics/reporting system. When you're only using a standard Google Analytics set up or your traditional administration system to see sales, it's hard to see a clear picture. Questions like, "which source of traffic have the biggest purchase value?" or "does the running marketing campaign impact the average order value?" gets unanswered. By using Ecommerce tracking, you can solve this problem, as the traffic and sales data merge with your Google Analytics data.
You should use Google Analytics Ecommerce tracking if you're already using GA and selling items.
How to enable Ecommerce tracking on Google Analytics.
For the Ecommerce tracking set up, you'll need to enable it on the Google Analytics admin panel and modify the GA tracking code on your website.
To enable it on your website:
Go to the "Admin" section
Under the "View" column, click on "Ecommerce Settings"
Flip the switch to the on position, under "Enable Ecommerce"
Finally, click the "Save" button;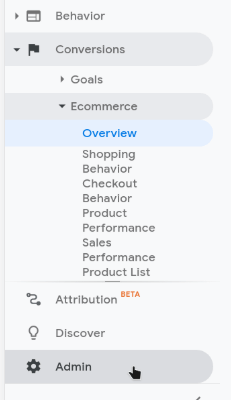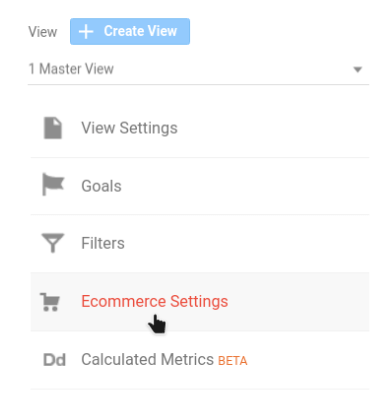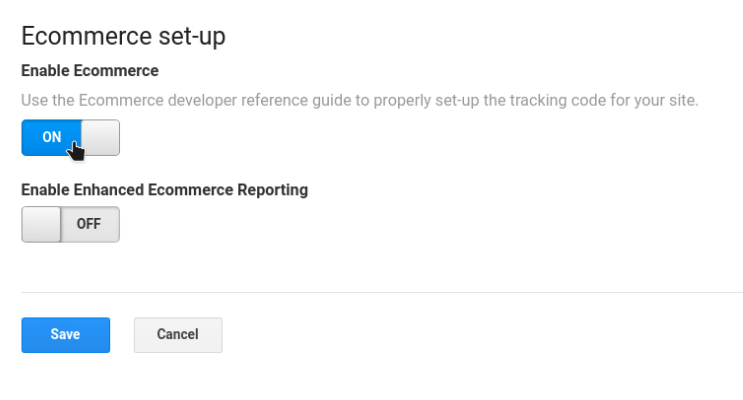 Please note that you can find the website code part in the developer guides section.
Google Analytics Enhanced Ecommerce
Enhanced Ecommerce differences.
Google Analytics Enhanced Ecommerce is an addition to the standard Ecommerce tracking. While the standard Ecommerce tracks transactions and helps you identify your traffic channel revenue, best selling products, and general sales, it has its limits. Enhanced Ecommerce allows you to access broader metrics, create more reports, and use segmentation, based on the Enhanced Ecommerce events. You can split and segment which users bounced from your conversion funnel, which products were added or removed from their shopping carts, or identify other trends. However, it can be a bit time consuming to perform a proper set up of Enhanced Ecommerce. It takes some planning and developer efforts, more than enabling standard Ecommerce tracking.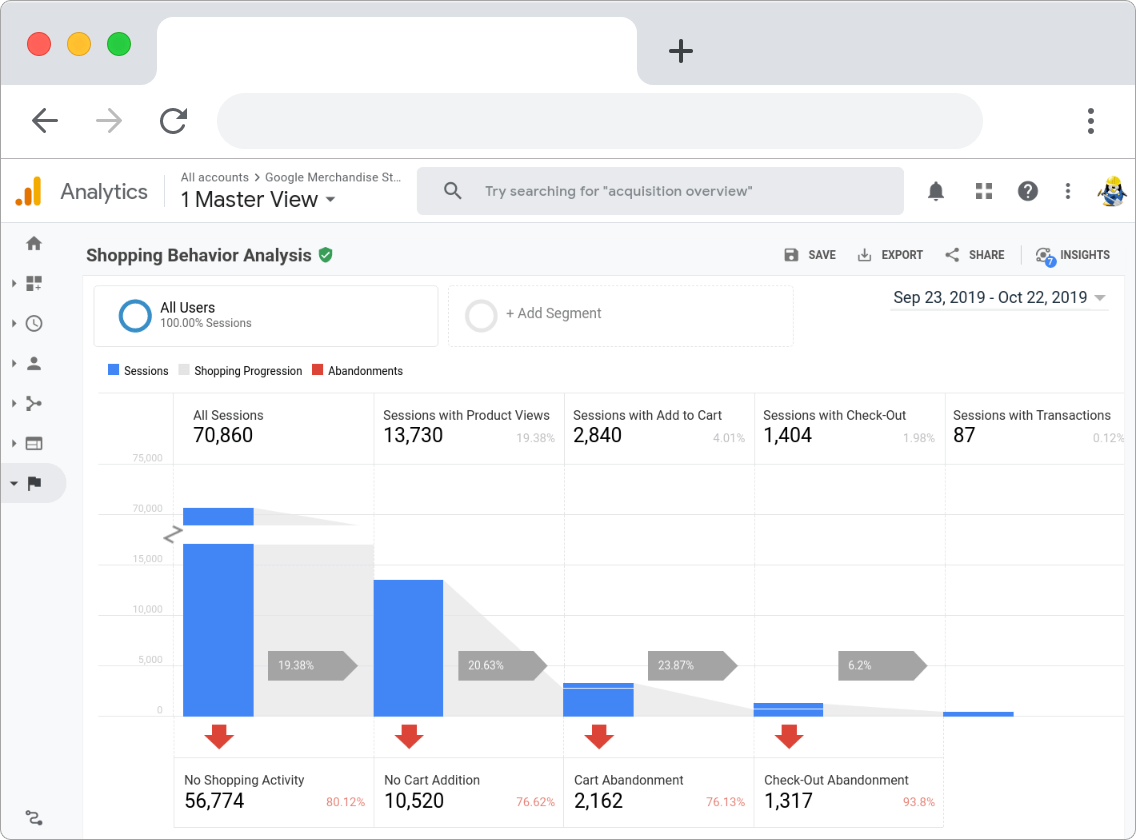 Enhanced Ecommerce provides a clearer view of your data and more depth to analyze it. However, it requires a lot more work to set up, than standard Ecommerce tracking.
Should you enable Google Analytics Enhanced Ecommerce?
As Enhanced Ecommerce provides more depth to your data, the benefits are a lot bigger too. Standard Ecommerce doesn't track such important metrics like profit margin, discounts applied, promotions used, or buying funnel statistics. This additional data can be used by any part of your business, from marketing to UX, to sales. So if you're interested in those, you should enable it.
If you're serious about investigating your users' behavior and find that standard Ecommerce tracking does not answer your business questions, you should implement Enhanced Ecommerce.
How to enable Enhanced Ecommerce.
As with standard Ecommerce tracking, there are two steps to enable Enhanced Ecommerce.You need to enable it on the Google Analytics admin panel, and set up your website to send the data.
To enable it on your website:
Go to the "Admin" section
Under the "View" column, click on "Ecommerce Settings"
Ensure that the general "Enable Ecommerce" switch is on
Under the "View" column, click on "Ecommerce Settings"
Flip the switch to the on position, under "Enable Enhanced Ecommerce Reporting"
Finally, click the "Save" button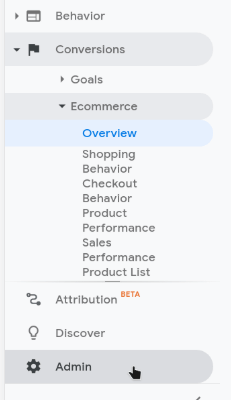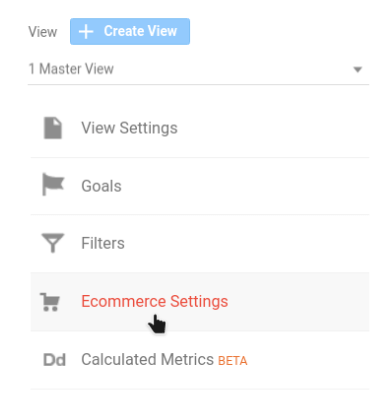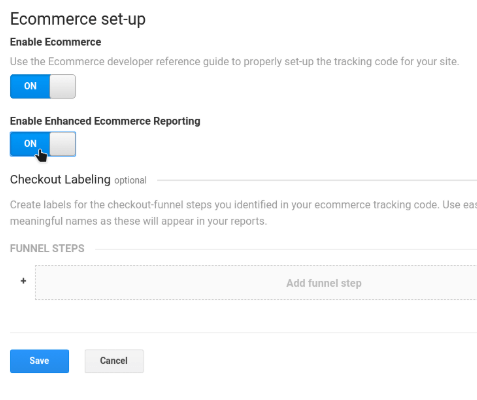 Simply enabling it will add a few new reports into your Google Analytics, but they'll be empty. You'll need to send additional data from your website. Enabling Enhanced ecommerce without sending that data doesn't break anything, so that you can do it in advance.
Please note that you can find the website code part in the developer guides section.
Google Analytics Ecommerce tracking (developer guides)
Google Analytics Ecommerce reports
Standard GA Ecommerce Reports.
After enabling Google Analytics Ecommerce tracking, and especially Enhanced Ecommerce, you'll see a few new reports under the "Conversions" -> "Ecommerce" section.
1. General Ecommerce Overview Report
This report is similar to the other "Overview" sections and gives you a broad insight into what's happening with your ecommerce business. You can see how many sales you are making, the average transaction value, and the top products/categories/brands.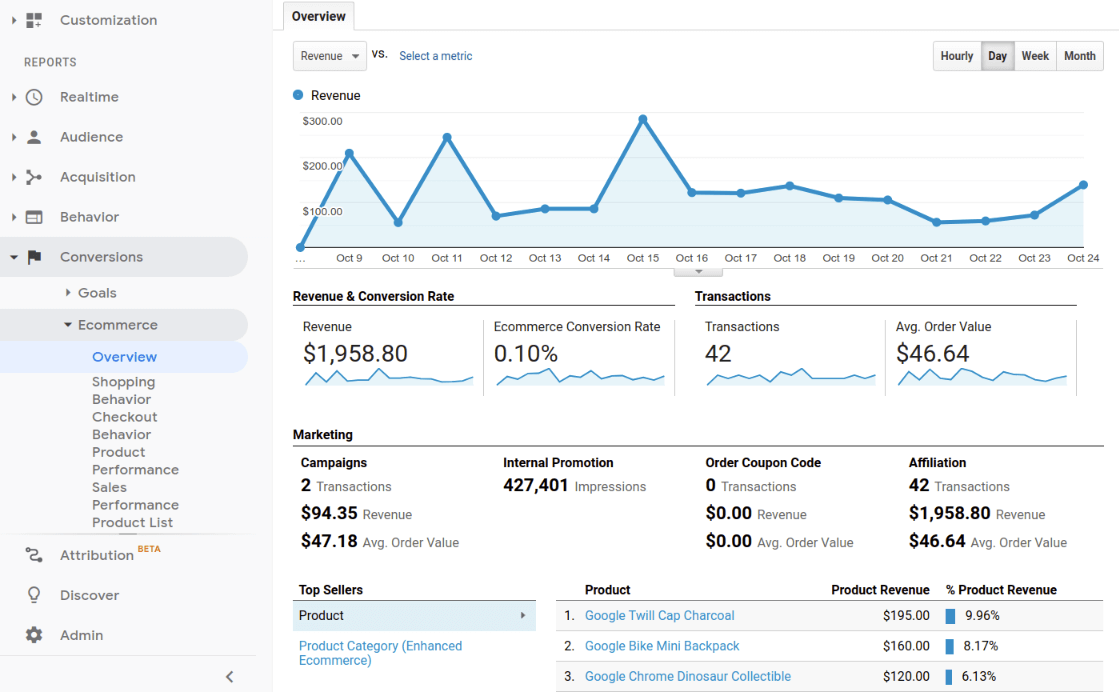 2. Customers Shopping Behavior Report (only on Enhanced Ecommerce)
This report shows you your customer shopping behavior funnel. You can see how many users participated in any shopping activity and how many abandoned their carts or left the checkout process.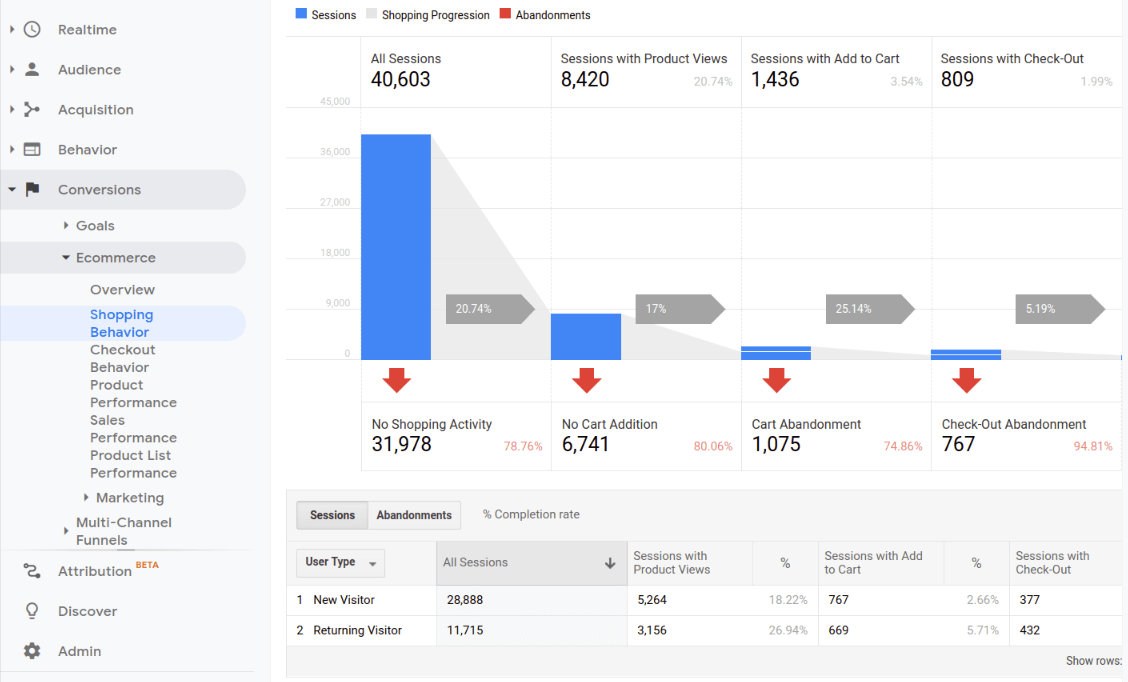 3. Customers Checkout Behavior Report (only on Enhanced Ecommerce)
Like the shopping behavior, checkout behavior shows you a funnel view, but it's only focused on checkout steps. Think about entering billing information, payment method, and cart review steps. If any of those funnel steps start leaking, it's crucial to fix them straight away. The customer already wanted to perform a purchase, but it didn't happen for one reason or another.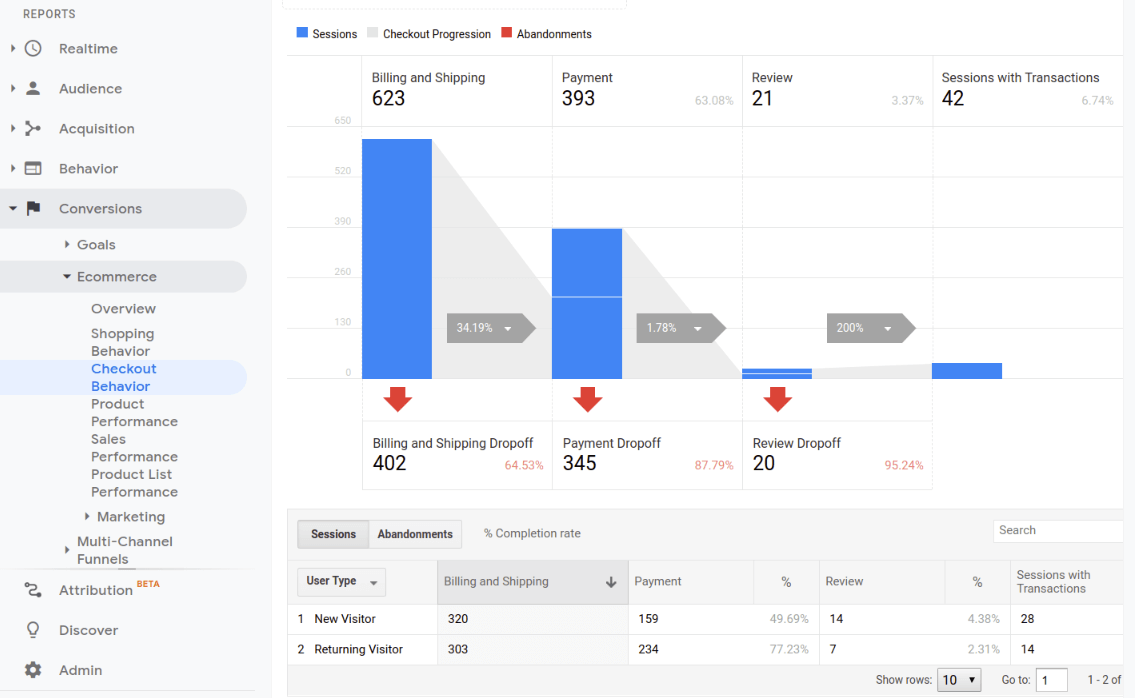 4. Ecommerce Product Performance Report
The product performance report combines sales performance and shopping behavior on the product level. It will show you the best selling products, their purchases,quantities, and how many of them were refunded, added, or removed from the cart. When you're using regular Ecommerce tracking, only sales performance data is displayed, as the shipping behavior report is not available.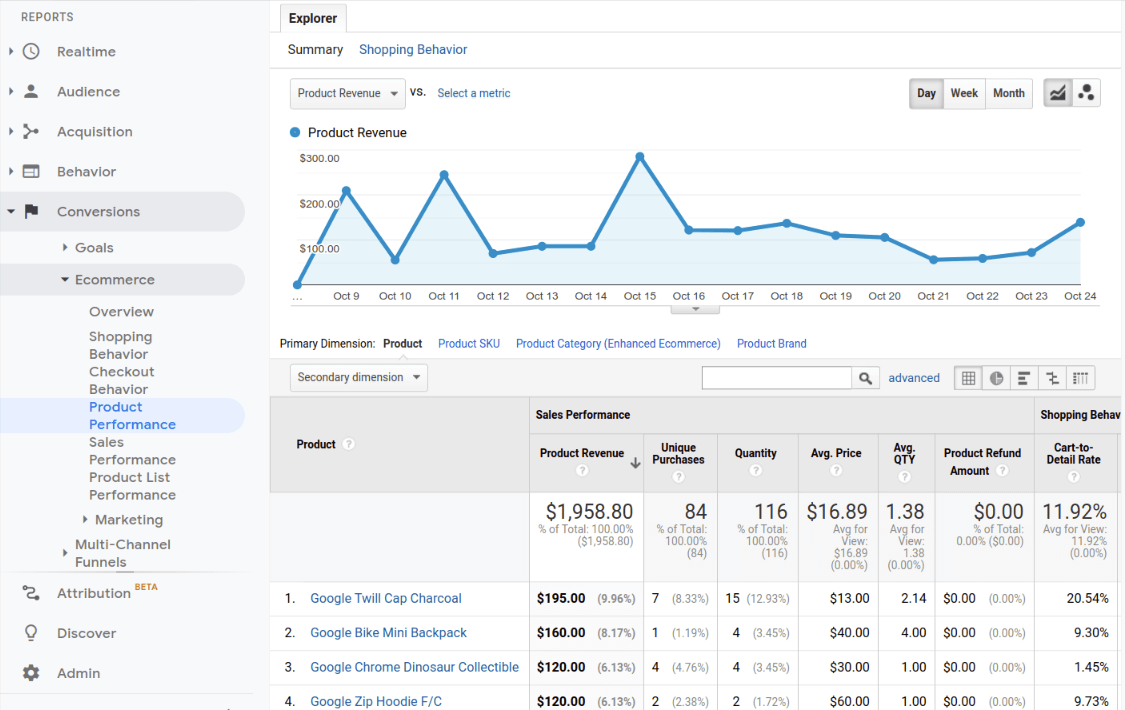 5. Ecommerce Sales Performance Report
The sales performance report is focusing on your transactions as a whole. So there you'll see all the monetary values like revenue, tax, shipping cost, and refunds. Keep in mind that when you're using regular Ecommerce tracking, you won't see all the numbers, such as refunds.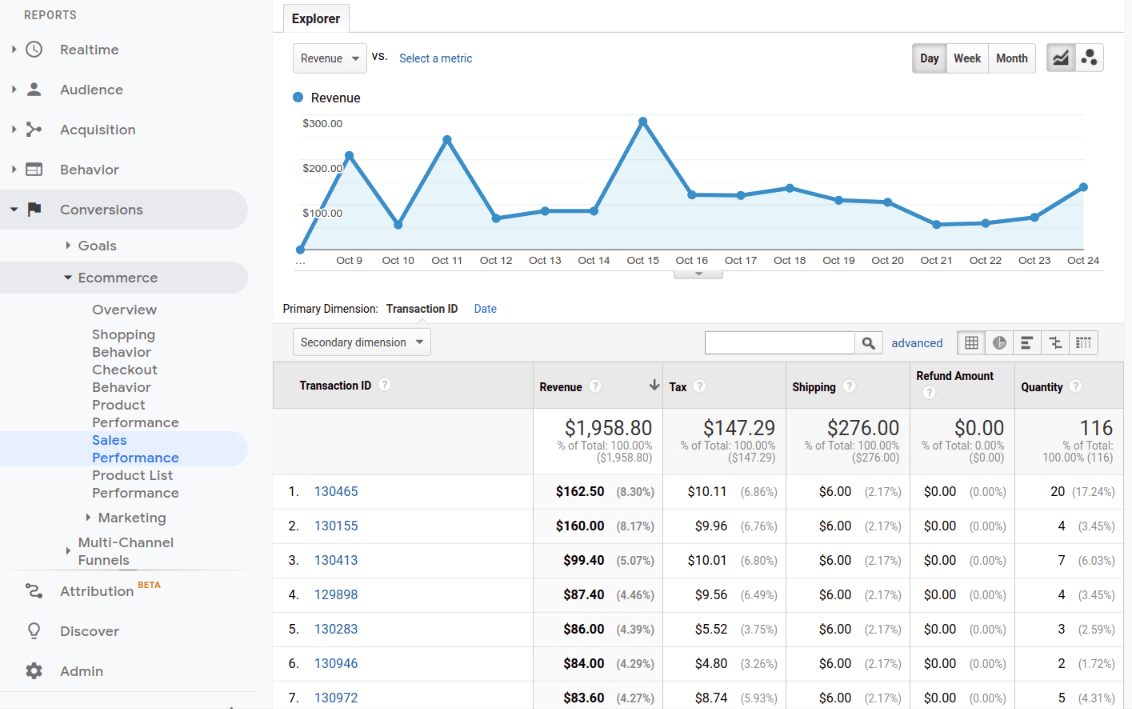 6. Product List Performance Report (only on Enhanced Ecommerce)
The final products list performance report will show you how well your listings work. It can be a categories page, internal search page, or sidebar promotions list. They all have different views/clicks/add to carts count, so you'll be able to know which lists perform better on your site.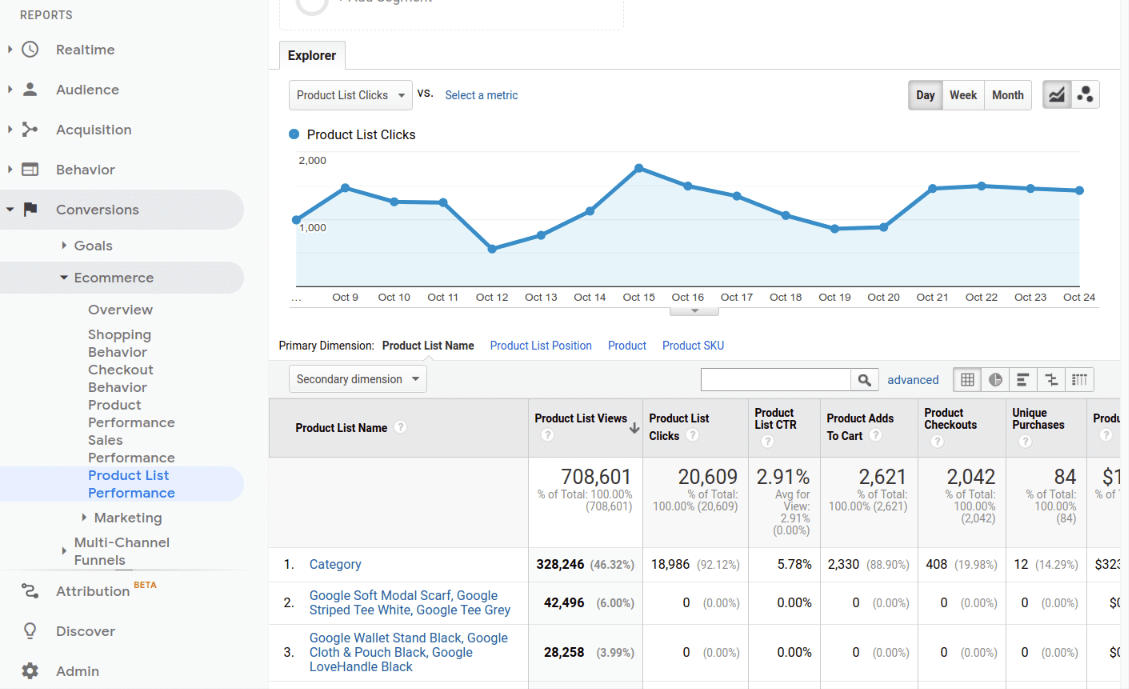 If you're interested in more advanced ways of monitoring your ecommerce website, please head to the next section.
Advanced Ecommerce Reports with StatsGlitch
StatsGlitch weekly reports allow you to have a quick and clear view of your most essential ecommerce metrics, while also providing extreme customizability. At a glance, you can see your top-performing channels and user segments — for example, top-performing countries and traffic sources.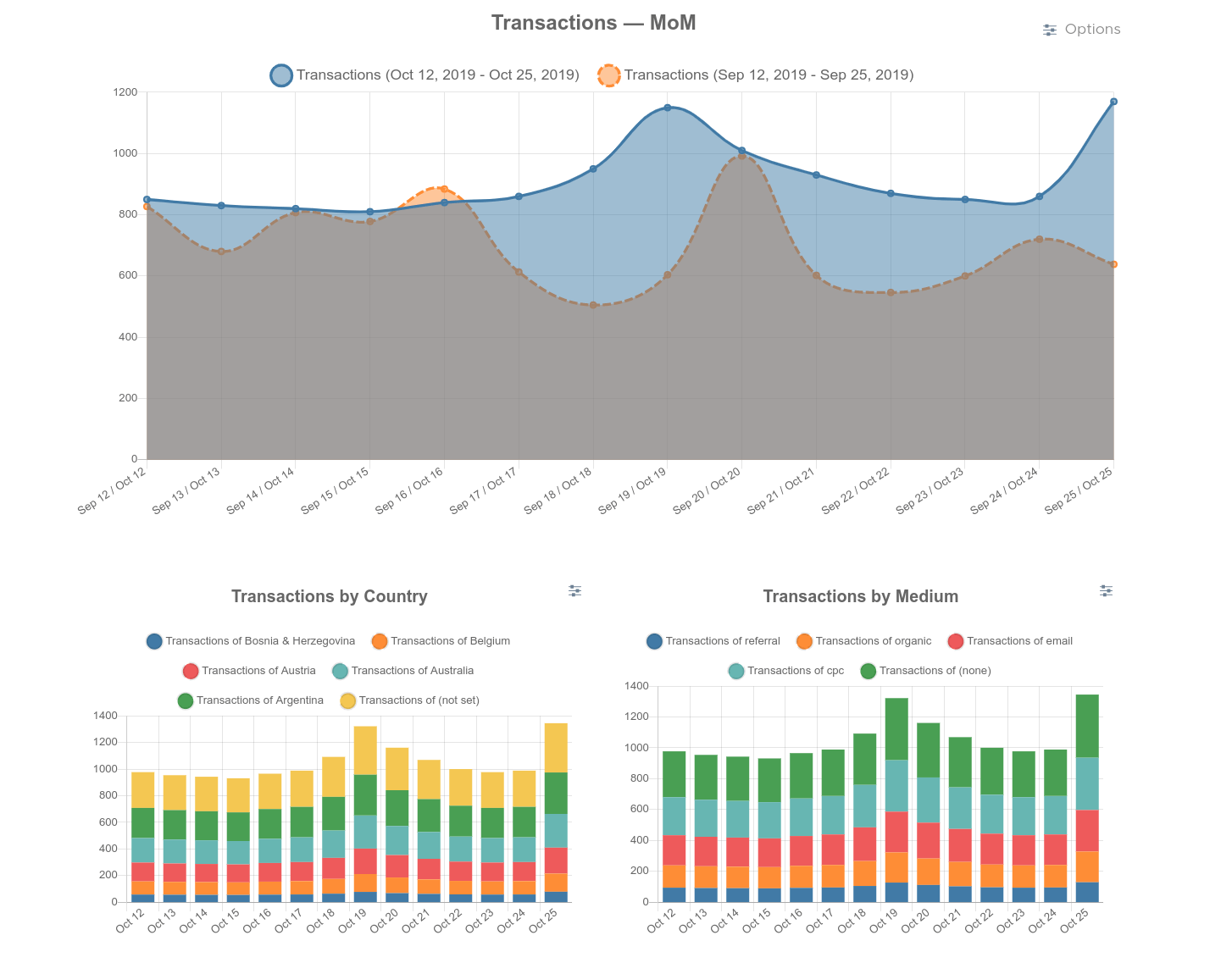 You can toggle between your ecommerce metrics instantly and see the whole picture of what went up and what went down.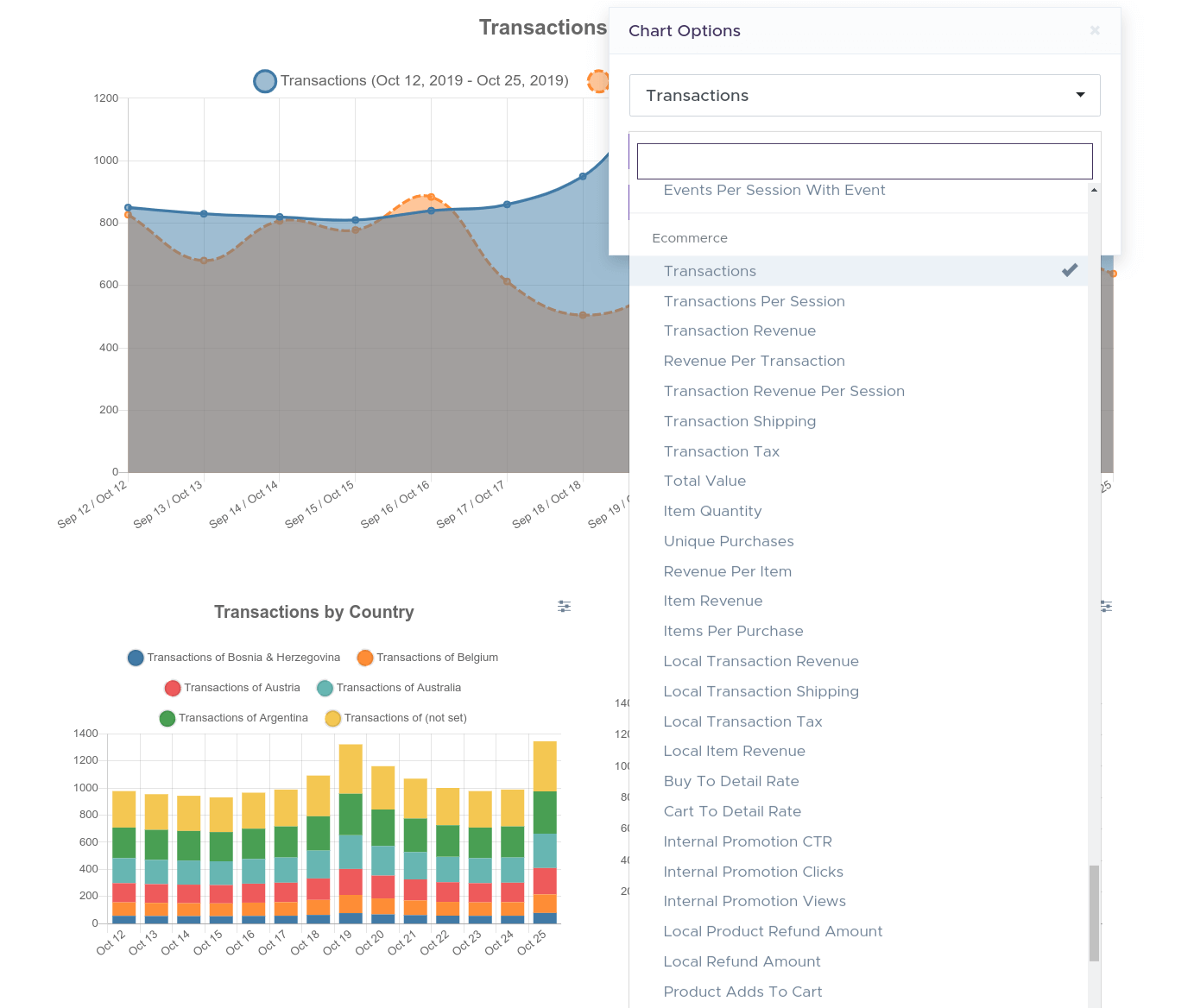 Set up a weekly report to track your most important metrics, such as Transactions, Transactions Revenue, Total Sales, and Unique Purchases. StatsGlitch will even inform you if there were any National holidays. So you can consider this when investigating data fluctuations.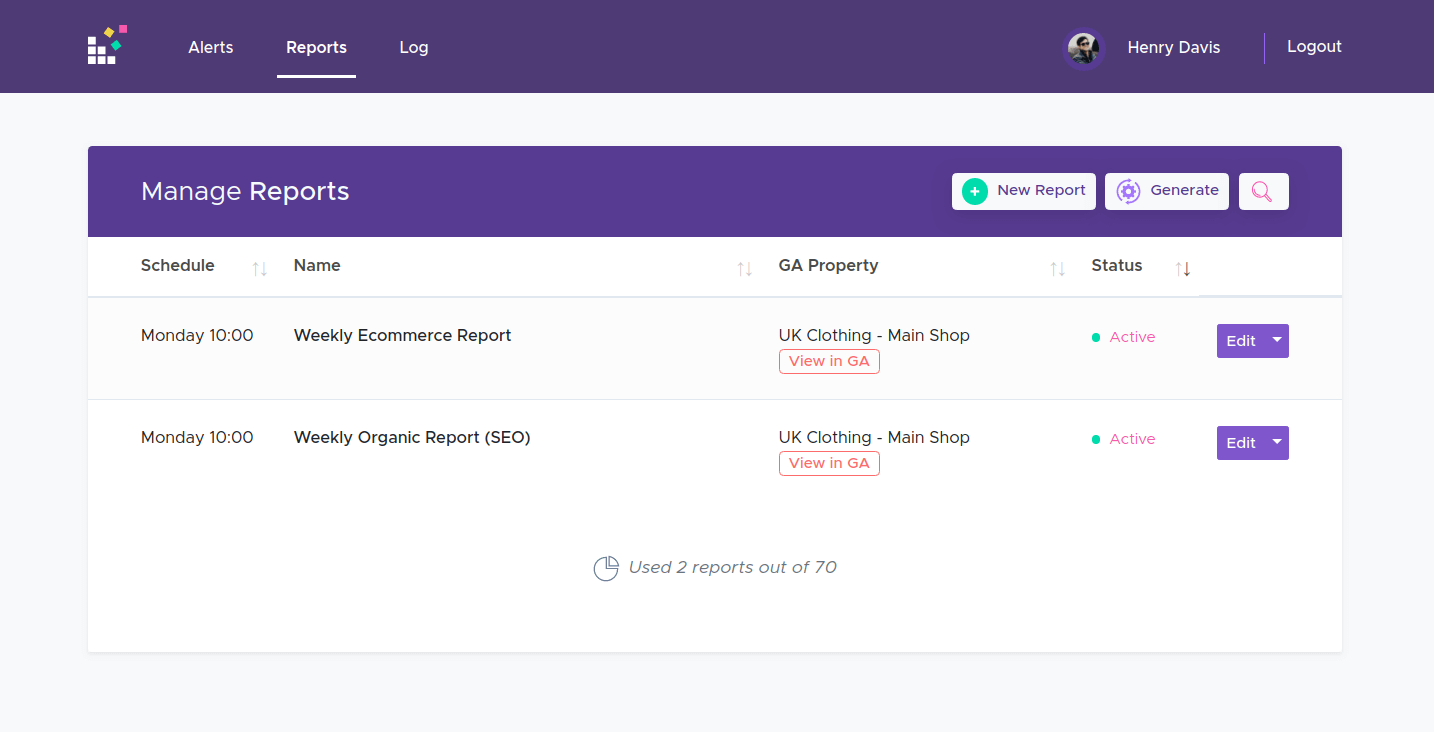 You can have weekly and daily reports, but for daily monitoring, we recommend using alerts. See the section below to find out more.
Google Analytics Ecommerce Alerts (Custom and Real-Time)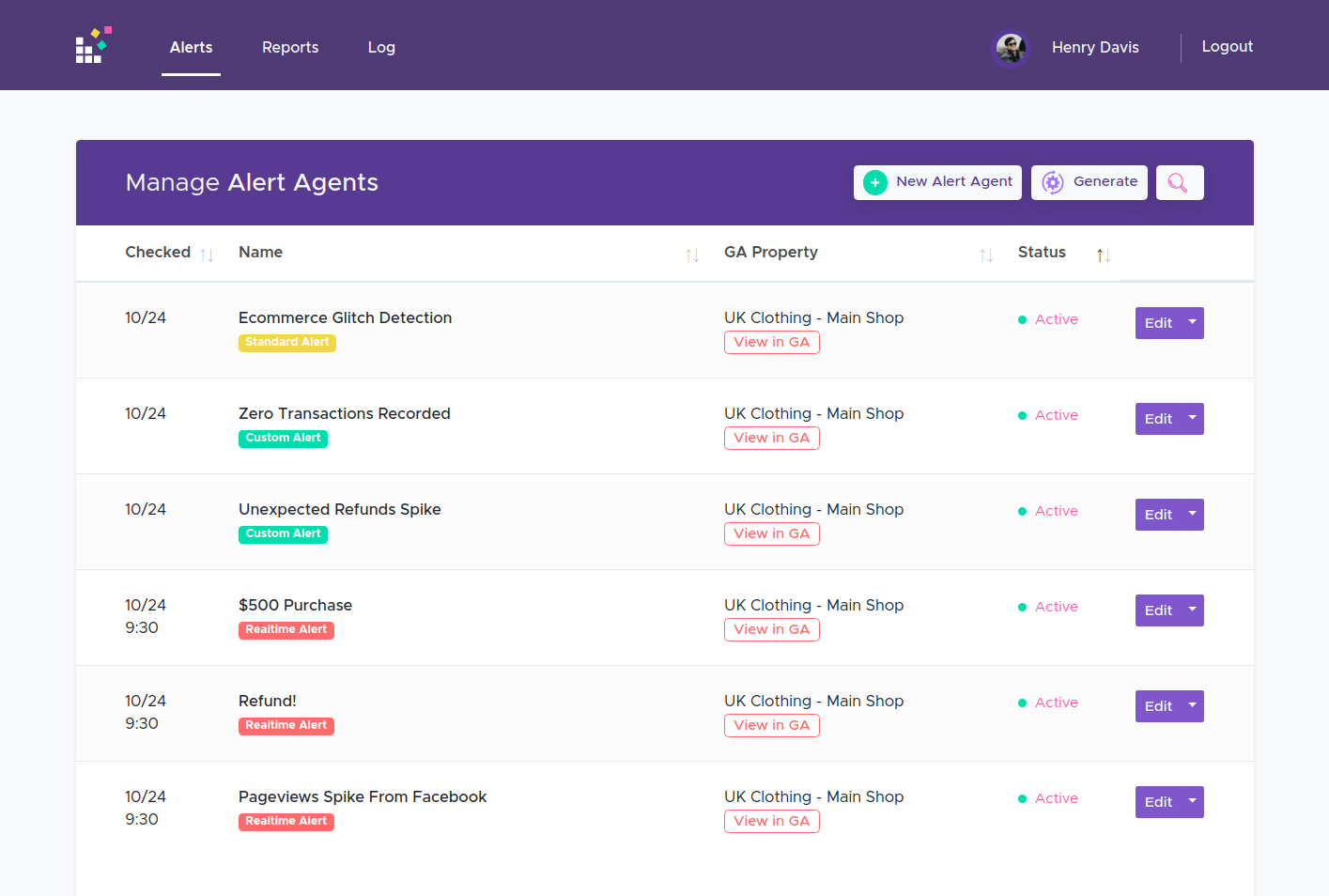 With StatsGlitch, you can track all kinds of different Google Analytics metrics. Here are the top most used metrics, for tracking ecommerce businesses. Every alert below is highly customizable, and you can adapt it to your specific needs. Treat them as general examples of what you can do. It can take a while to configure everything properly. But every alert saves you time, as you don't need to go to Google Analytics so often.
1. Ecommerce KPIs Glitch Detection
This alert informs you when something significant happens on your ecommerce website. It checks selected metrics using historical data and decides whether the spike (or fall) is statistically significant. If it is, you'll receive a notification via Email, Slack, or anywhere else (like internal admin) via Zapier. In this example, it's tracking Transactions, Unique Purchases, and Total Refunds.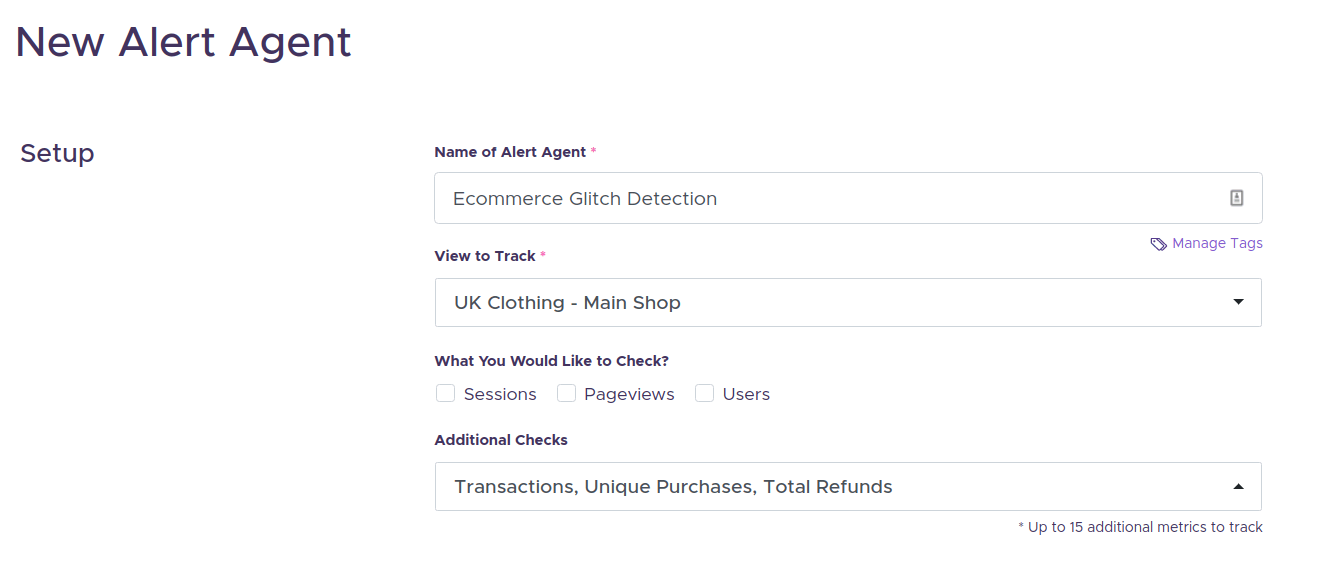 2. Zero Transactions Recorded
If your ecommerce website is quite popular, but not enough to dedicate your full attention, you can set up a custom alert to track if there were no sales recorded. This simple check will ensure that your Google Analytics tracking is in place, your checkout process is working, and your website, in general, is working fine.

3. Unexpected Refunds Spike
All businesses don't like to deal with refunds, but it's a reality. Your ecommerce store will also have returns. should track them and ensure that the rate of them is as expected. A high refund rate might signal that there are problems with your inventory or a particular product. Set up a refund check to see whenever they've increased more than 20% compared to the last week, and you should be safe more or less.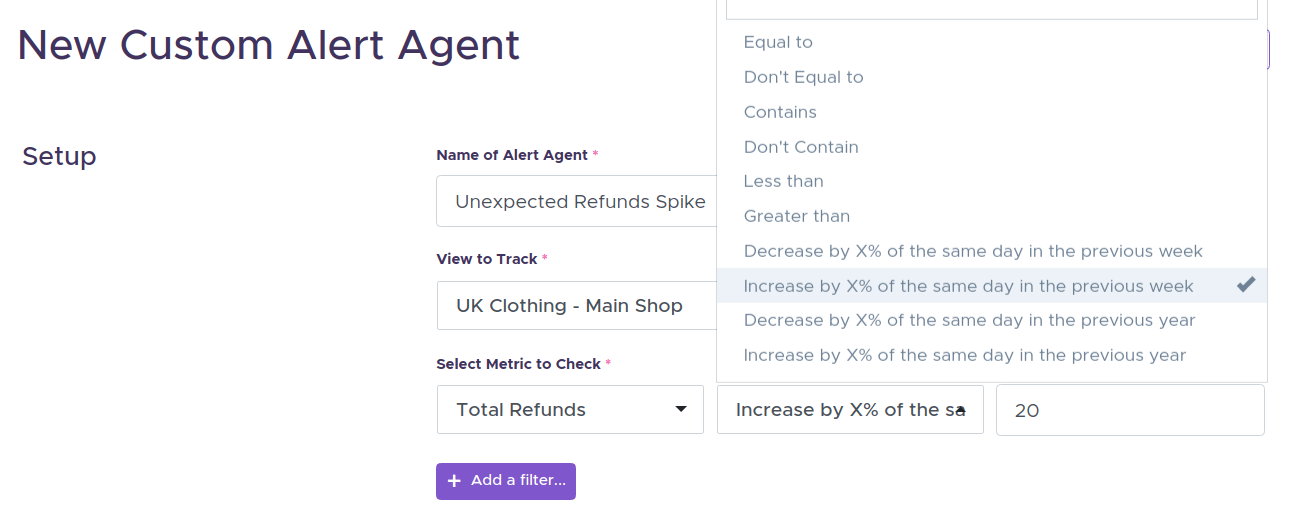 4. Real-Time Alert - $500 Purchase
Who doesn't like to celebrate? We're all social beings, so receiving an alert every time a customer purchases something for $500 seems like a perfect mood booster. Associate your transaction data with Google Analytics Goals, set the Goal Value to the purchase amount, and you're ready to create this kind of alert.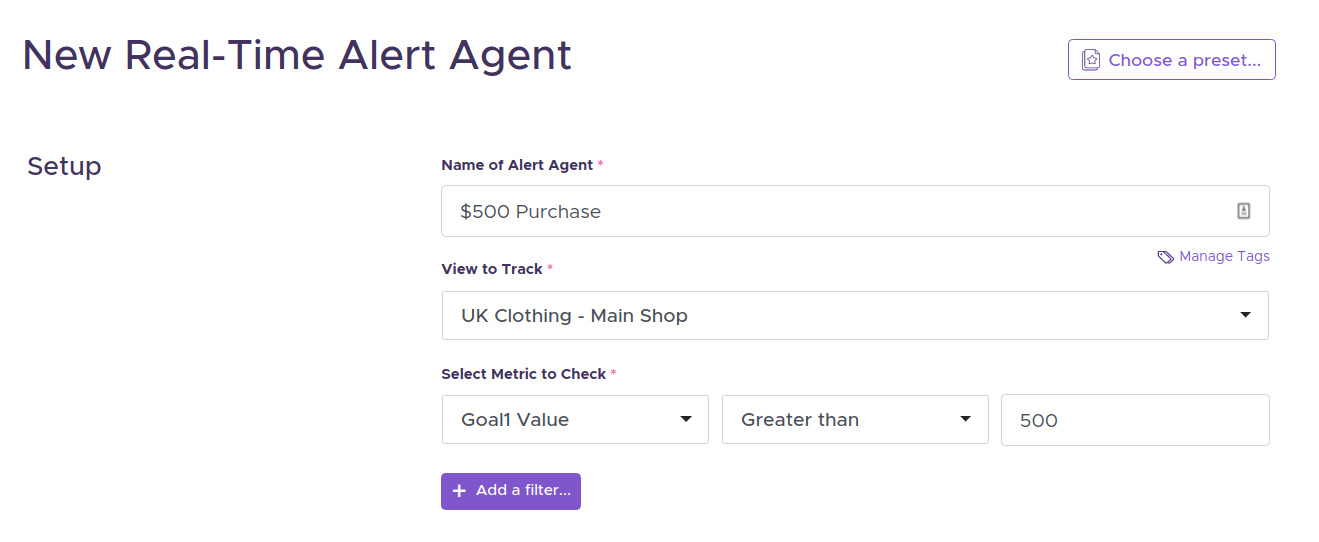 5. Real-Time Alert - Refund
While celebrating a sale is pleasant, it also might be crucial to track and investigate all refunds. Send the refund event to Google Analytics, and you can se tup a real-time alert every time a customer requests it. You can get a notification via Email/Slack, or your internal admin via Zapier.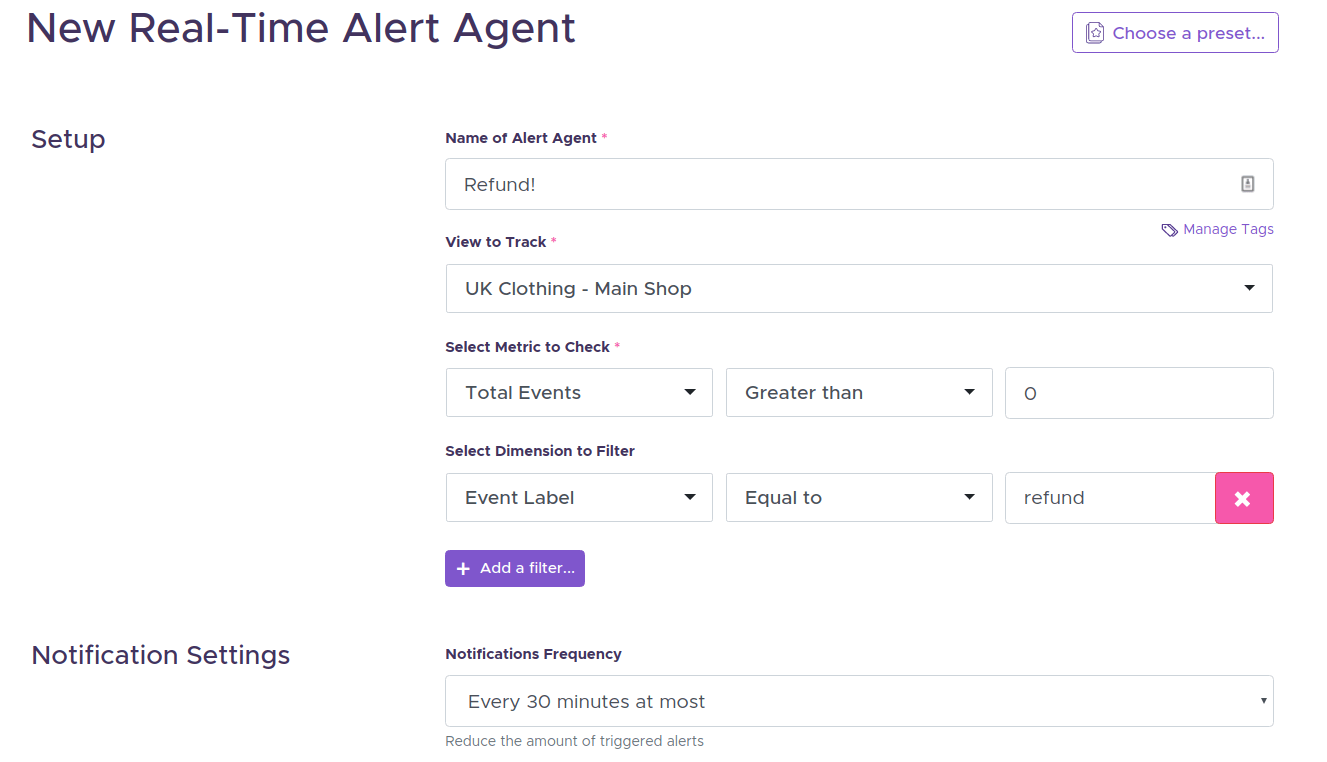 6. Real-Time Alert - Pageviews Spike From Facebook
The last example becomes handy if you perform some social network campaigns. You can receive a notification when there's a sudden spike from Facebook, Pinterest, or any other website. You'll know that your promotion is working and can push it further on that platform right now, not waiting for tomorrow's results.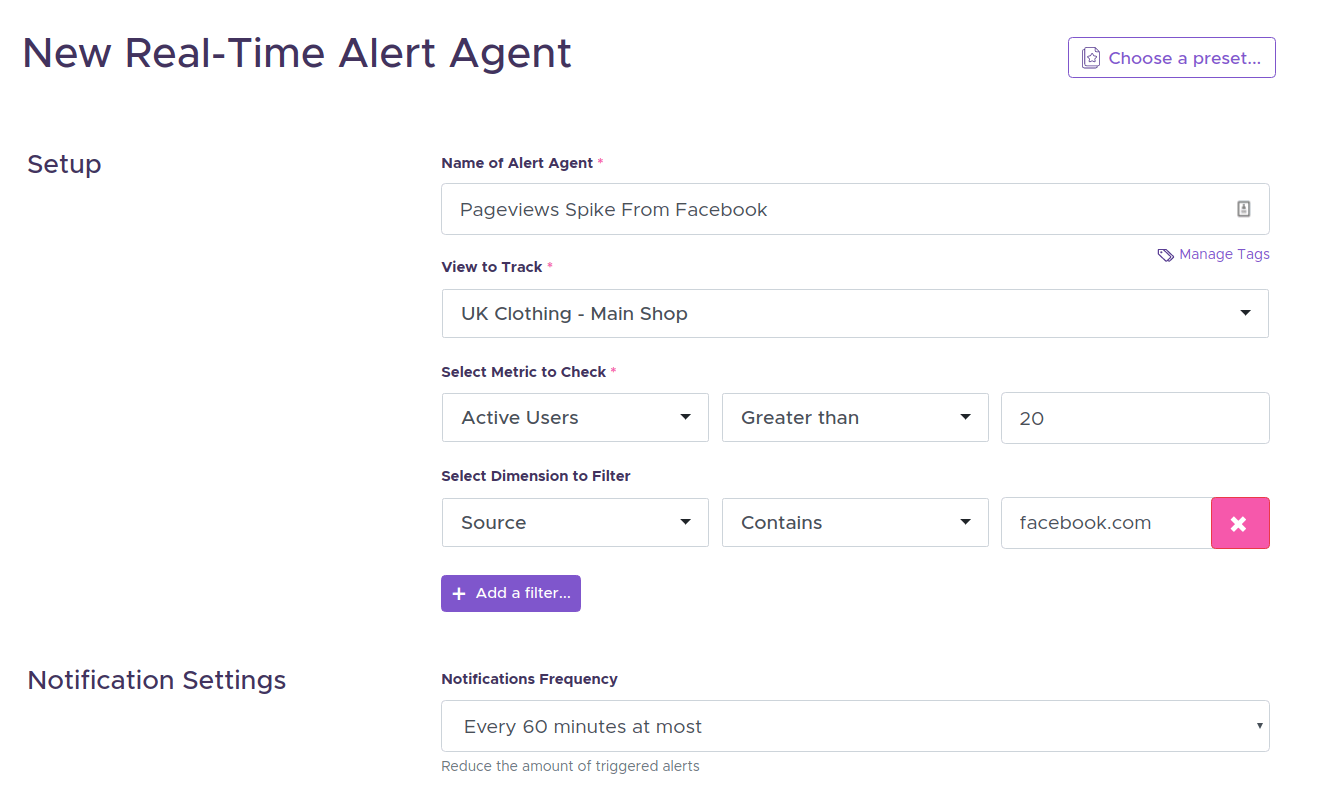 Combining Alerts and Reports is usually the key to successfully reducing time spent on Google Analytics, and increasing your business awareness.
How to track what really matters.
Focusing on everything usually leads to knowing nothing. If you're running an ecommerce shop, you should have your main KPIs (Key Performance Indicators) defined. Commonly used KPIs are:
Total Revenue
Transactions/Sales
Refunds
Ask yourself this question, what metric defines your business as successful or unsuccessful? The answer is usually your KPI, so you should make sure you stay on top of it. Create custom or real-time alerts or check it on Google Analytics directly.
Then, it would help if you thought about what other metrics impact your KPI. These are also important to check, but a weekly check is usually sufficient. Create weekly overview reports, or have a routine to check those manually on Google Analytics, every week.
It would be best if you resisted creating too many reports and alerts, as it could be distracting, and you might lose your focus. Instead, once a month, revisit the previous two questions and make sure the answers are up-to-date.
Set up alerts focusing on main KPIs (like total revenue), but your weekly report might have a broader view, such as the average purchase amount or total products sold.
GA Ecommerce tracking common questions
Mismatching data on Google Analytics and Ecommerce store
Your ecommerce store might report different numbers than Google Analytics because of many reasons. If that's the case, you should treat your Google Analytics data as a representative distribution. You can make business decisions based on Google Analytics and support or reject the ideas. But for pure financial reports, trust your ecommerce platform instead. Here are the top explanations of why there might be a difference:
Your customers are using JavaScript or cookie blocking solutions. Therefore the data never reaches Google Analytics in the first place.
You have some errors in your JavaScript. Check whenever the transaction reporting page doesn't have any errors or ask your developer to do this.
Your ecommerce store is a different timezone than Google Analytics View. For your convenience, you should always set them to the same timezone.
You have refunded or canceled transactions that were not synced to Google Analytics.
Ecommerce transactions data is missing on Google Analytics
If all your transactions are missing in Google Analytics Ecommerce reports, there might be some problems:
The transaction tracking is not implemented correctly in your order confirmation/thank you pages. Double-check that the JavaScript code responsible for tracking the purchase is there when a customer performs a transaction.
Your payment gateway (such as Stripe or PayPal) doesn't redirect a customer to the "thank you" or order confirmation page.
You're missing required fields to record Ecommerce transactions.
The order of Ecommerce events is mixed with your other Google Analytics code. The actual order depends on whenever you use standard Ecommerce tracking or Enhanced Ecommerce.
The Spotify/WooCommerce addon modifies your order confirmation page.
Now you know:

What Google Analytics Ecommerce is
How it can benefit your business
How to set up Google Analytics Ecommerce tracking
How to use Ecommerce Reports and Alerts like a pro